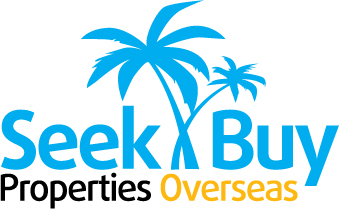 Seek & Buy Properties Overseas
Overseas Properties are becoming increasingly popular. Whether your choice is Spain, Cyprus, Florida, Italy, or France, we are sure that you too will be joining the rising number of people benefiting from an improved lifestyle and a sensible investment!

Whatever your reason for a overseas property, whether it be a second home, holiday home, an investment property or maybe you have made the decision to move permanently to the sun, we want to help you fulfil your dreams. Let us take the strain out searching through dozens of websites to find the right one that offers help on buying overseas property.

We aim, with the help of our colleagues abroad to provide a service, that will fulfil YOUR requirements. You tell us what you want and we will do all the 'leg work'.

We will put you in contact with our, tried and tested, professional colleagues overseas who will listen to YOUR needs, and provide you with the advice and support to make buying overseas property easy and stress free.
Contact

Seek & Buy Properties Overseas
Address:
Seek & Buy Properties Overseas
Cherry Holt Road
Bourne
Bourne , Uk
Telephone:
+44 1780 480940
Price: €177,000
- Seek & Buy Properties Overseas -
Price: €210,000
- Seek & Buy Properties Overseas -
Price: €329,950
- Seek & Buy Properties Overseas -
Disclaimer: The information about this agent is provided by the agent as an advertisement for their services. Umuzee.com neither verifies the accuracy of the content submitted, nor directly endorse the agent or give assurance as to the accuracy of the information provided. The information is generated, provided and maintained solely by the agent. Please contact them directly for further information about their properties or services.